Thanks to the compassion of those who contribute, the Beloved Narayani Inc. is completely voluntary. Besides the small bank and Paypal fees, 100% of your donations goes directly to Sri Sakti Amma's vast number of humanitarian and charitable projects.  Donations to Beloved Narayani Inc. are not tax deductible. 
There are three ways to donate.
For Australian bank account holders, you can directly deposit into our bank account. This avoids PayPal and Raisely/Stripe fees. Please write in the Bank Field the cause you are donating too (optional). If it is a general donation, just leave the field blank.
Westpac Bank


Beloved Narayani Association Inc.




BSB: 032050




Account Number: 238785

Via Paypal



Via Raisely – this is an online platform and uses Stripe for the payment gateway whereby you can either enter a credit card or via Paypal. It is very safe and secure. ***Please Note – on finalising your payment with Raisely, there is an option to click a button to help cover (Raisely's) 

fundraising costs. This is optional and all that money will go to Raisely (the payment gateway). It won't make it to Peedam.
For Puja sponsorship: if you would like to inform Peedam of your Sankalpa, please send a whatsapp message to Yuvaraj,
with : 1) your name 2) puja 3) purpose and 4) amount donated.
Yuvaraj's number +919942993021If you have any further questions email us info@belovednarayani.org
"When God gives you the thought that you should be doing something good and when God gives you the urge and the opportunities, take them all, right away." Sri Sakthi Amma
Projects Beloved Narayani Inc. supports at Peedam
Pooja:– Amma's Pooja is the holiest project. In fact, it is the connecting thread of the people across the world. Many of the guests come and stay in Peedam to witness Amma's Pooja, Yagams and hearing discourses.
Annadhanam:– Anna Dhaanam is closest to Amma's heart, for it is one of the only forms of donation where the recipient, having eaten his or her fill, will use the word "enough". Food is also considered to be one of the best methods of instilling joy and satisfaction in people's lives. Sri Annapoorni Mandapam facility was constructed in the premises of Sripuram to provide free food to all those who visit the Golden Temple. About 5000 people are served traditional South Indian meals every day.
Vidya Nethram: (Education): – Beloved Amma has always stressed on the importance of education. Education provides the individual many lessons in life and adding to the knowledge that is vital for the individual's future. Amma's Vidya Nethram programs are specifically oriented to providing the necessary infrastructure, giving children the encouragement to pursue education beyond school. Distribution of note books, stationery items to several thousands of students is a major program conducted each year. Amma has donated tables, chairs, blackboards, books, stationery and school uniforms to several rural schools which have been adopted by Amma. Also, every year the Sri Narayani Charitable Trust extends financial assistance to 500 Students to pursue Engineering, Medicine and other professional courses.
Gho Samrakshana: Cow is the Sacred form of God, Amma is giving importance to GhoPooja. We have the Ghosala , aborning the Cows, in our premises.
Gho Dhanam: Donating Cows – In India Cow is considered as the Sacred one. Most of the homes in villages having cows. The people in villages make their livelihood by selling milk from Cows. Donating cows to the villagers makes them self-reliance.
Green Sakthi: This is Project for environment. Exnora Waste management project, to collect, store, sort and dispose the waste in an eco-friendly manner. Also planting New saplings, reviving nedicinal plants and traditional herbs, maintain nearby forest, etc to save the Mother Earth.
Arogya (Health):– Under this Scheme the Trust caters the whole treatment cost of the patients especially for the students suffers from cardiac, liver and kidney problems. Every year several hundreds of physically Challenged persons benefits with the wheel chairs, Tricycle, crutches, artificial limbs, Hearing aids from Amma's generosity.
Mathruganga (Drinking Water): – A water project to provide drinking water facility to the residents of drought stricken areas in and around Vellore districts. The Trust has provided hundreds of bore wells and overhead tanks to the schools to fulfill the acute shortage of drinking water to the students. The Trust also arranged four tankers to distribute potable water every day to the people of Vellore to meet the water scarcity during the drought season.
Jyothyswaroopini:– Under this scheme, New Temples and other required buildings are constructed or maintained by the Trust. Also, Financial assistance made to renovate or construct the old and dilapidated temples.
Narayani Kala Peedam: Promotion of traditional, cultural and fine arts programmes. Importance is given to teach, practise and concert the ancient cultural activities.
Vasthradhanam: Giving away free cloths to the poor and needy.
SAMMM: This is the women empowerment program. Training and empowering women who are economically weaker in the society to become self-reliant.
Emmergency Relief: Sri Sakthi Amma has provided immediate aid and relief in response to calamities such as floods, droughts, earthquakes, tsunami's and fires. During such natural disasters Amma has distributed food and clothing to several hundreds of people very quickly and efficiently.
---

Pooja Seva


Om Namo Narayani
If you would like to inform Peedam of your Sankalpa, please send a whatsapp message to Yuvaraj,
with : 1) your name 2) puja 3) purpose and 4) amount donated.
Yuvaraj's number +919942993021

Sri Narayani Hospital and Research Centre
The only charitable acute care hospital in the region offering state of the art medical care, including surgery, that is provided to anyone without regard to his or her religion or ability to pay. In addition, the hospital operates extensive non-profit community health and humanitarian programs in 58 rural villages in Southern India.
A 200 bed charitable acute care medical center has treated over 13,000 in-patients, has had 250,000 outpatient visits, and the clinics have begun administering a complete series of immunizations to over 6000 children since opening in June 2004.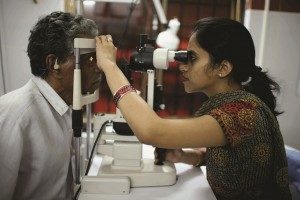 The hospital has 45 full-time physicians including specialists in Cardiology, Ophthalmology, Surgery, Nephrology, Neurology, Diabetology, Orthopedic surgery, Obstetrics and Gynecology, ENT, Radiology and Gastroenterology.
There is also a CCU, an ICU, a 24 hour Blood Bank, a 24 hour Pharmacy, a 24 hour Ambulance service, a CT Scanner and a Medical-Pathology Laboratory.
Geographically relevant research in communicable and non-communicable diseases is ongoing.
A pathology laboratory offers on-site evaluation for early detection of cancer.
The accessibility of such medical support has been life-changing for thousands of families.
Amma's vision of affordable healthcare for people in need has become a reality, which strengthens with each passing day.
---
Education Programs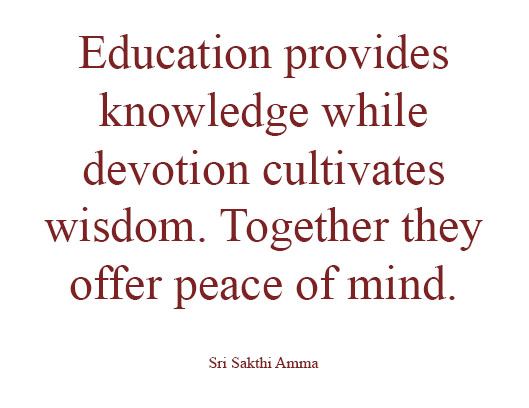 Sri Shakti Amma has initiated various education programs that provide local children with life- changing opportunities for their future. Amma believes in the importance of education, moral values and spiritual transformation. Reflecting this, the school curriculum includes subjects and practices such as yoga, meditation, Vedic chanting, music, dance, painting and martial arts.
The schools are taught in the English medium, presenting a huge advantage for the students, as all tertiary education across India is in English. Hindi and Tamil are offered as language-subjects.
Seventy percent of the students at Amma's schools are the first in their families to read and write. The success of the educational program is evidenced by the fact that every student proceeds to further their education after graduation, changing their future – and the lives of their families forever.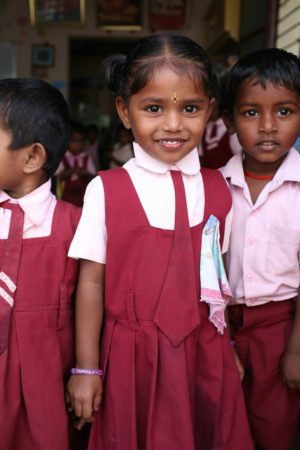 Sri Narayani Nursery School (middle building with brown door) was the first of many seeds in Amma's vision for educating the community. It opened its doors in 1995 as a free-of-charge day care school providing local low- income workers a safe place to leave their children. What started as a one-room school that educated 10 to 20 children, has now expanded to facilitate the education of 2000 children, from pre-school to high school.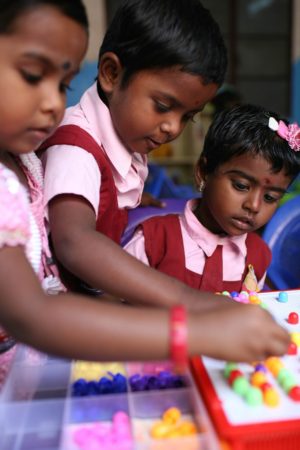 Sri Narayani Vidyalaya opened in 2002. Ranging from pre-school to grade 12, it provides State Board education to local rural children who are taught in English and Tamil.
Sri Narayani Vidyashram School was inaugurated in 2014. It instructs students all the way from kindergarten to high school in English and Hindi, under the National-Board system of education.
Vidya Nethram lends a helping hand to students from local rural communities to further their education. Every year, 800 local students from low-income families are given tertiary level education scholarships.
On completing their studies and entering the workforce, graduates are encouraged to 'pay it forward' by pledging to support a student's education. This is a beautiful tradition of gratitude and encourages other students to follow in their footsteps.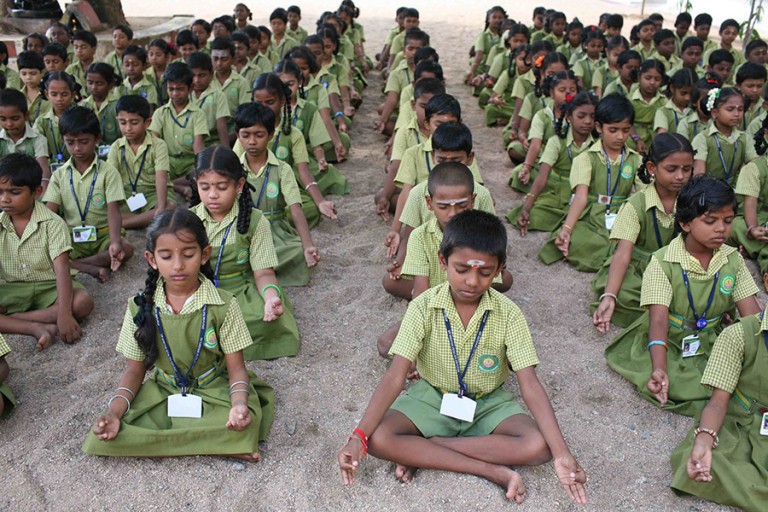 ---
Food Programs – Anna Dharnam
Narayani Food Seva or Anna Dhaanam (providing meals) began in 1999 at Sri Narayani Peedam, and extended to local schools and local government-run orphanages.
Today, Narayani Seva takes place everyday at Sri Annapoorani Mandapam, a large dining hall inside Sripuram. A free South Indian meal is served on a banana leaf to all temple visitors and staff members. On average, between 8000 to 10 000 guests are fed daily!!!!
Amma has explained that when material gifts are given, like money or clothing, the recipient will never be entirely satisfied. Human nature is such that they will always, 'desire more'. However, when a person is offered food, at some point their desire will be satiated. When the belly is full, satisfaction is reached and the person will say, 'I have had enough.Thank you.' In this way, providing food for people is a very special seva.
Anna Dhanam (Anna = food; Dhanam = Giving) is offered to 5000 guests each day who visit the temple.
It is a tradition in India to feed those who visit the temple as an offering (for no cost).
Solar Kitchen & Bio Gas
Since early 2020, our kitchen is fuelled by solar energy to cook a tonne of rice a day for our 5000 guests. Biogas is used (mixture of food waste and cow dung) to cook all the South Indian dishes we serve, like samba, rasam, dhal and vegetable dishes etc.
This saves us 3 million rupees a year (as well as many trees), keeping with Sri Sakthi Amma's environmental mission.
Food distribution during Covid
With the impact of Covid, families and communities struggle to survive. Cooked meals as well as bags or rice, cooking oil and general food items have been given out during Covid to families and communities in need.
There are many ongoing seva (service) activities here at Sri Narayani Peedam. For example, when we talk about Annadhanam, it may seem like we are only feeding a person. But no, we are actually feeding the Divine. When we feed a person, along with their physical body, their soul is also happy and feels joy – as the soul is Divine.
It is a great blessing that we are feeding the Divine. Only in human birth does this become possible."
– Sri Sakthi Amma
---
Environmental Programs – Green Sakthi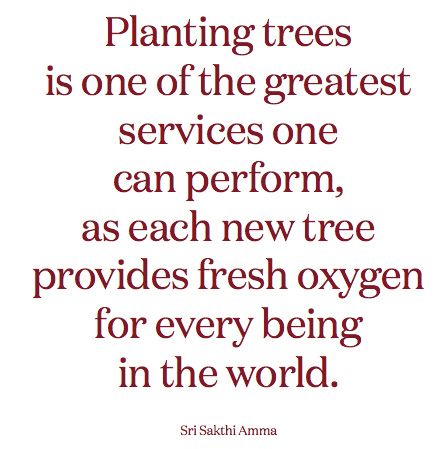 Sri Sakthi Amma's environmental programs are born out of Amma's great love for nature. The programs reflect a concerted effort to green India by initiating massive tree-planting projects, as well as addressing waste management, recycling and environmental education amongst school children.
Green Sakthi Project covers many areas concerned with preserving nature, our earth and ensuring a greener future.
At the Green Sakthi Tree Nursery, indigenous trees are grown from seed and up to 100 000 saplings are donated locally each year. The nursery employs 25 men and women from neighboring villages.
These vast tree-planting projects prevent soil erosion, create shade, provide homes for animals, improve the air quality, enhance bio-diversity and provide employment for local people. Since the trees have been planted, a greater variety of birds now inhabit the area. A drop in temperature during the summer months is also experienced.
In 2000, Sri Sakthi Amma began the first Green Sakthi Initiative – a mass afforestation in the sacred Kailash Giri Hills behind Sri Narayani Peedam. In partnership with the State ForestryDepartment, 100 000 trees were planted annually, reaching 700 000 trees over a period of seven years. All the saplings were raised from seeds in the Green Sakthi Tree Nursery.
The Green Belt (also known as Sakthi Point) refers to 30 acres of land adjacent to Sripuram. Once arid land, this area has been reforested, and is now transformed into a lush environment for future generations.
This is also the location for the Gho Samrakshana Project – a retirement village for cows that have been rescued from slaughterhouses.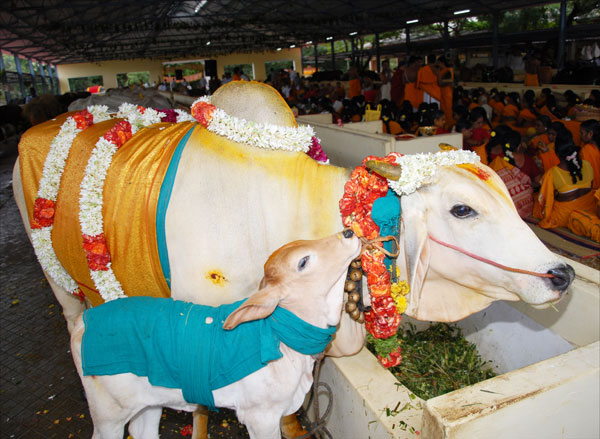 "In Hinduism, one worships animals and nature. God is also Nature.
God exists in all forms and is also formless."
Sri Sakthi Amma
Green Sakthi Tree Donation Program donates over 100 000 saplings every year to local schools, hospitals, colleges, orphanages, government departments and organisations that wish to plant trees in their vicinity.
Nurtured in the Green Sakthi Nursery, the saplings are ready for donation once they reach five feet in height.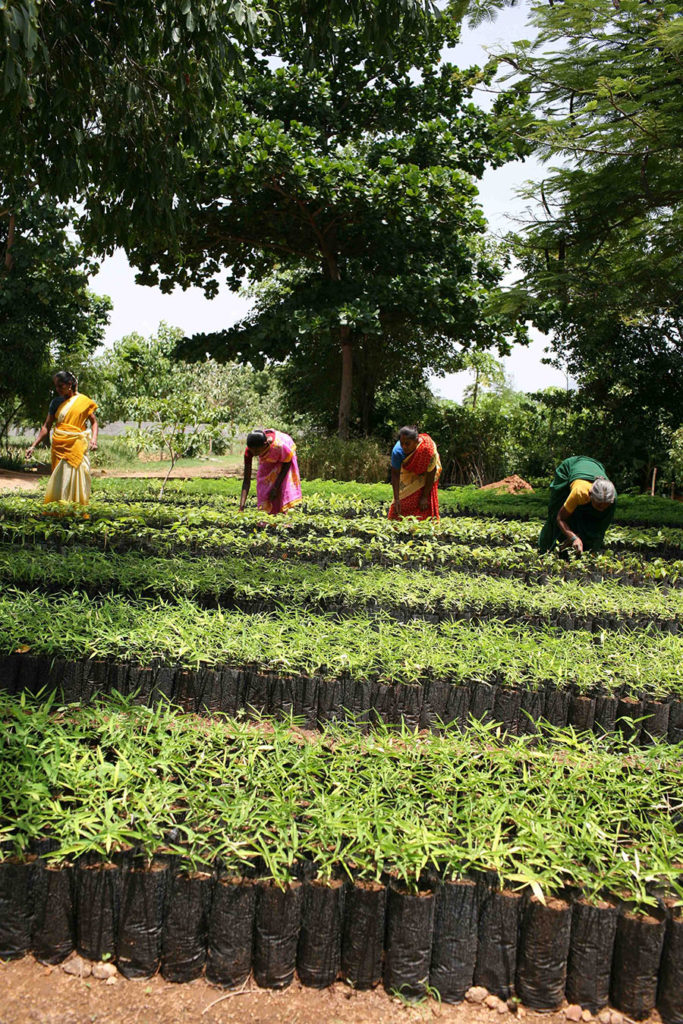 Green Sakthi Club educates school children on the importance of taking care of the environment. Lessons embrace a hands-on approach and by instilling the importance of picking up litter, recycling and tree- planting, inculcate civic values and a sense of ownership and pride as well. The overarching message is that the environment is each and everyone's responsibility.
EXNORA Zero Waste Management Program was established in 1997, in conjunction with the environmental organization from Chennai of the same name. The project uses the 'Reduce, Reuse, Recycle' principle, with each item segregated by hand, and all biodegradable waste turned into compost. Paper, glass and cardboard are recycled, plastic bags are washed, dried and sold for recycling.
Today, EXNORA (EXcellent NOvel and RAdical ideas) is a completely self-sustaining unit; collecting more than two tons of waste a day, and employing over two hundred local workers. Their jobs are regularly rotated so that more skills are constantly being developed. This program serves as a model for other rural communities to adopt.
In the first phase, biodegradable waste is mixed with cow dung and urine – neutralising the odour – and sits under the hot sun for three months. It is then moved into the vermi-composting shed, where worms bred on site break down the compost for another three months. Finally, the compost is sifted and packed into bags. This compost, known as 'black gold', is sold at the temple and used in the campus gardens, afforestation areas and tree nursery.

---
Cow Protection – Gho Mata
Donate a Cow – Gho Mata!

Donate a cow to a low-income family in India.
Sponsor the caring of a cow for a month or a year.
Rescue a cow from the slaughter house.
***Please Note – on finalising your payment, there is an option to click a button to help cover (Raisely's) fundraising costs. This is optional and all that money will go to Raisely (the payment gateway). It won't make it to Peedam.
 
 In India, the Gho-Matha or cow is considered the Universal Mother as she gives her own milk to all humans unconditionally regardless of caste, faith, social status.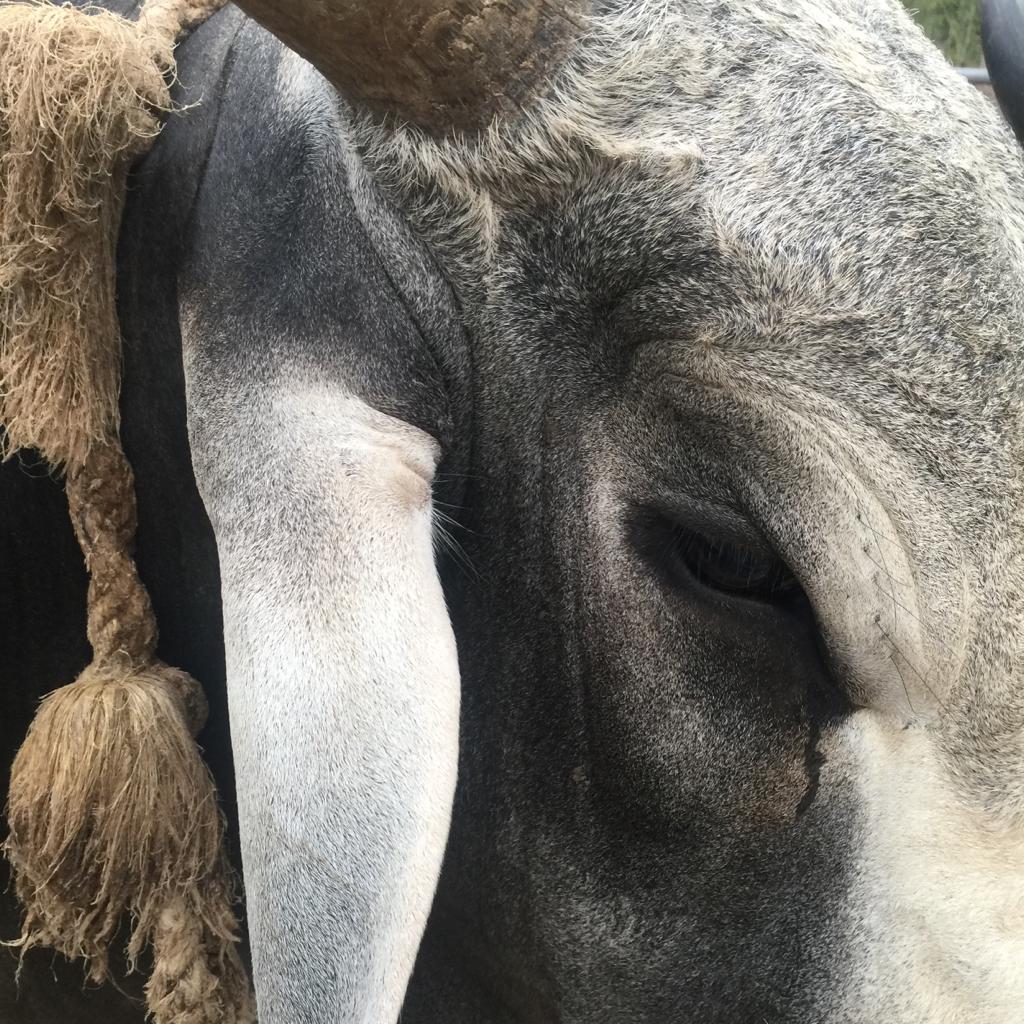 In India, the Gho-Matha or cow is considered the Universal Mother as she gives her own milk to all humans unconditionally regardless of caste, faith, social status.
Peedam's beautiful Gho Sala is home to 500 cows, including rare Indian breeds and we also have the Gho Samrakshana programme which saves cows from slaughterhouses, so they can live the end of their days peacefully.
Ready to be donated to a low-income family.
Calves born at the Gho Sala (Home for Cows)
A guest from Germany donates "greens" for every cow at the Gho Sala. These leaves are not only very loved by the cows and also very good for their health and their digestion.
Gho Dhanam – donation of a cow and her calf to a low-income family. Here a villager living below the poverty line receives a cow and her calf to support his family.
School children from Narayani School's Green Sakthi Club visit the Gho Sala for life drawing classes.
Beautiful artwork from Gho Aatha life drawings classes by Satish 7th Grade
 
A Gho Matha with her calf at the Gho Sala
A very rare Indian breed of a miniature cow is being bred at the Gho Sala.
Sakthi Amma donates a cow to man living under the poverty line.
A cow after the ritual known as Gho Pooja – this ritual is offered when a cow is donated to a low-income family.
Gho Dhanam – donation of a cow and calf to two brothers from a low-income family who had very recently lost their father, and were having to support the entire family.
Feeding time
Adam from Brooklyn, New York donated a cow to a low-income family to celebrate his 9th birthday. Here he is partaking in the ritual, Gho Pooja, to honour the sacredness of the Gho Matha.
---

Children's Programs
Sri Sakthi Amma's first move into the field of public healthcare started with a mobile clinic, in 2001. Doctors would travel to villages, and provide consultations for free. The high demand for healthcare facilities opened the door to establishing multiple medical facilities for the local communities, beginning with Sri Narayani Hospital and Research Centre.
The medical services provided through these healthcare programs are wide-ranging. They include outreach programs; clinics and two hospitals facilitating paediatrics, neo-natal care, dialysis, intensive care, cardiology, obstetrics, gynaecology, urology, ENT, radiology, oncology and physiotherapy. Surgeries are provided in the areas of ophthalmology, cardiology, orthopaedics, urology, gynaecology, dental and neurosurgery. A pathology laboratory offers on-site evaluation for early detection of cancer.
The accessibility of such medical support has been life-changing for thousands of families. Amma's vision of affordable healthcare for people in need has become a reality, which strengthens with each passing day.
Sri Sakthi Amma Institute of Biomedical Research specializes in the health issues of tribal, rural and peri-urban populations in tropical areas.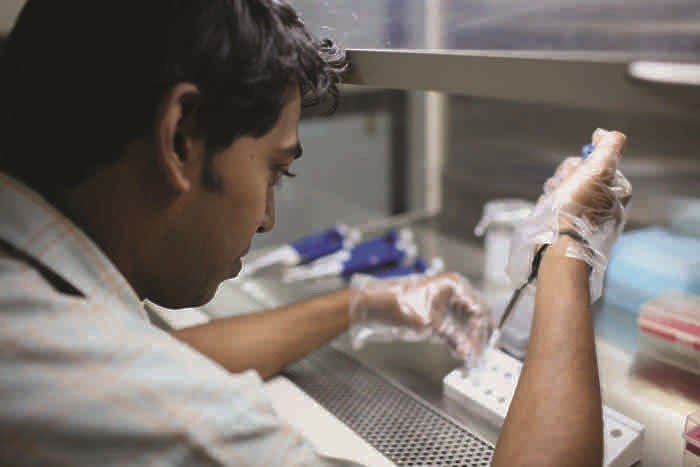 Sri Sakthi Amma Clinics and Sri Sakthi Amma Hospital are located in the Vellore district, and they respond to the high demand for healthcare in the extended communities. Doctors attend to immediate needs and refer patients to the main hospital when necessary. These clinics and hospital continue to expand, with new branches opening to serve the rural populace.
Sri Narayani College of Nursing was established in 2006 as an educational platform for women from low economic backgrounds. The college offers bachelor and masters degrees as well as diploma courses in midwifery. Sri Narayani College of Nursing is affiliated with Tamil Nadu Dr. M.G.R. Medical University in Chennai, Tamil Nadu.
Sri Sakthi Amma Institute of Allied Health Science provides another opportunity for high school graduates from rural areas to pursue a career in the medical field. Training is made available for them to become laboratory or x-ray technicians, physician's assistants, as well as other professionals in the wide field of healthcare support. Students carry out their practical studies at Sri Narayani Hospital.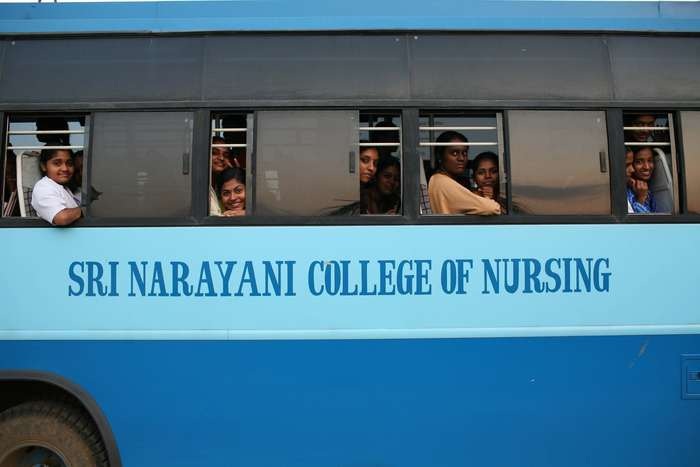 Medical Outreach Clinics are mobile clinics that provide medical help to people who live a greater distance away from Sri Narayani Hospital. These clinics provide general screening and free-of-charge consultations. Every year, medical professionals serve 1 200 villages, offering those who live there specialist help and care.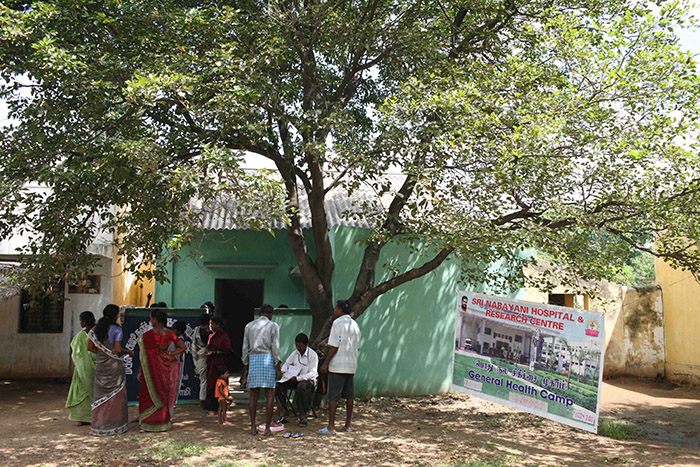 Arogya Health Program began in 2001, by donating basic equipment to differently- abled adults as well as children. Supplies include wheelchairs, tricycles, prosthetics, crutches, artificial limbs, hearing aids and eye-glasses.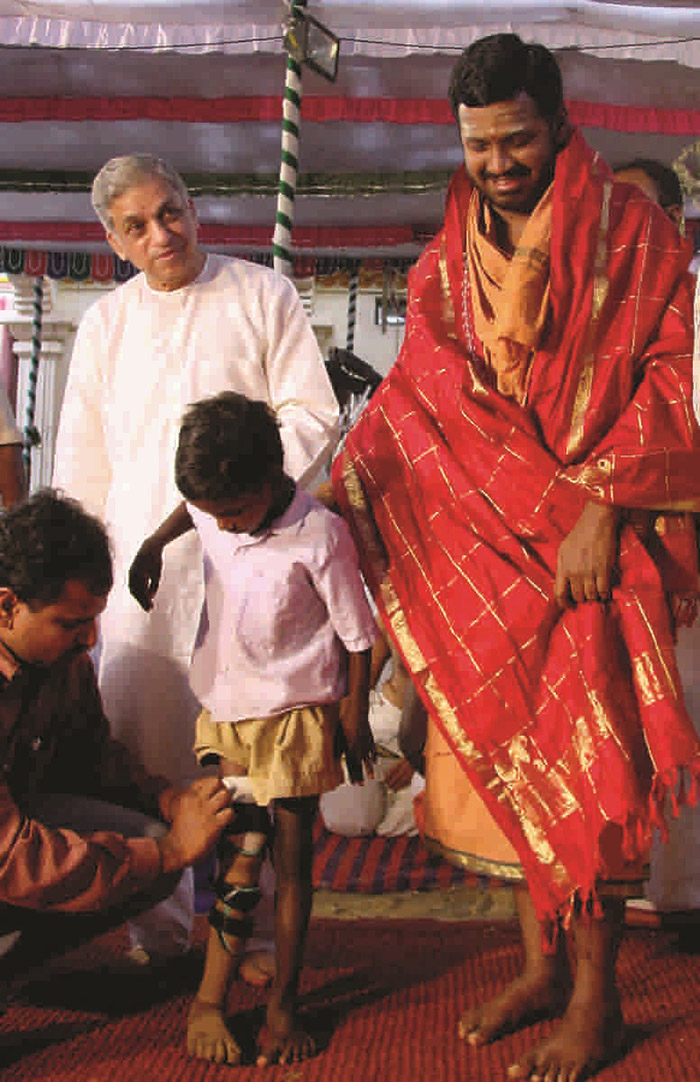 ---

Emergency Services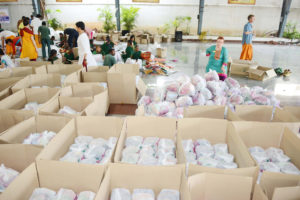 Sri Sakthi Amma has provided immediate aid and relief in response to calamities such as floods, droughts, earthquakes, tsunami's and fires. During such natural disasters Amma has distributed food and clothing to several hundreds of people very quickly and efficiently.
In 2001 about 300 homes were burned down leaving the people homeless. Amma provided them with certain essential items and cash to restart their lives.  In 2004 when an earthquake off the coast of Indonesia caused the most destructive tsunami ever recorded to sweep across the Indian Ocean which killed over 100,000 people, Amma immediately dispatched food, clothing, doctors, and medicine from the newly opened Sri Narayani Hospital and Research Centre to help those adversely affected by the destruction of the tidal waves that hit the southern coast of India.
In 2015 the South Indian states of Tamil Nadu and Andrha Pradesh, Puducherry and the city of Chennai experienced some of the worst flooding resulting from the monsoon. It was one of the worst natural disasters in 2015. More than 500 people were killed and over 1.8 million people displaced. Sri Sakthi Amma was immediate in providing a great amount of relief and aid to people in desperate need.
Emergency Relief for Sri Lankan Refugees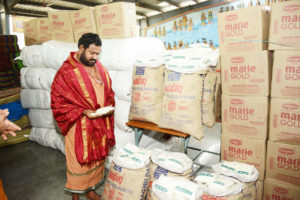 In response to the crisis in Sri Lanka and under the guidance of Sri Sakthi Amma, donors provided Sri Lankan refugees with life-saving medical supplies, food, clothing and other basic necessities of life.
In addition, the Sri Narayani Hospital & Research Center partnered with Direct Relief International (DRI), a U.S. based charitable organization that obtains medical equipment and supplies for use in disadvantaged countries.  DRI Deputy Director and Amma devotee, Matt Mac Calla, coordinated two shipments of medicine and medical supplies with a wholesale value of US$240,000.
The need for the supplies was so urgent and overwhelming that the second shipment was sent by air which was, made possible by donors to Divine Love World Charity.  Sri Sakthi Amma personally visited the refugees, distributed the goods, and provided solace and divine blessings to the people.

To Donate Please Go to the Top of the Page
Note. *When donating into the bank account, if its not a general donation
please write for what purpose 'ie. education, puja. medical etc (for accounting purposes)
General Donations:
Non specified donations, all gracefully support Sri Narayani Peedam in India www.narayanipeedam.org for purposes of educational, medical, environmental, orphanages, food donation and a broad range of humanitarian projects,  as well as a daily devotional practices for world peace.
OM NAMO NARAYANI
OM NAMO NARAYANI
OM NAMO NARAYANI