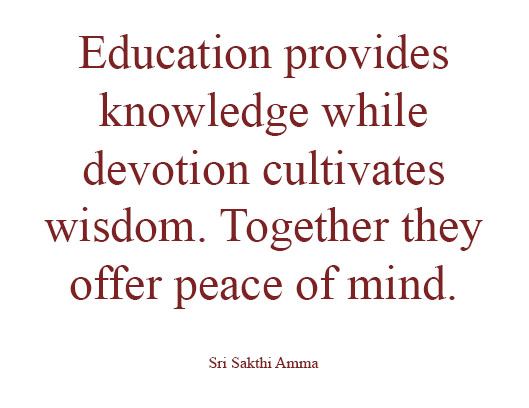 Sri Shakti Amma has initiated various education programs that provide local children with life- changing opportunities for their future. Amma believes in the importance of education, moral values and spiritual transformation. Reflecting this, the school curriculum includes subjects and practices such as yoga, meditation, Vedic chanting, music, dance, painting and martial arts.
The schools are taught in the English medium, presenting a huge advantage for the students, as all tertiary education across India is in English. Hindi and Tamil are offered as language-subjects.
Seventy percent of the students at Amma's schools are the first in their families to read and write. The success of the educational program is evidenced by the fact that every student proceeds to further their education after graduation, changing their future – and the lives of their families forever.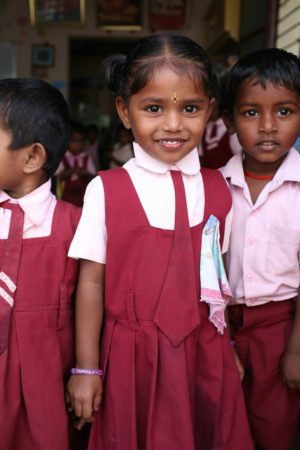 Sri Narayani Nursery School (middle building with brown door) was the first of many seeds in Amma's vision for educating the community. It opened its doors in 1995 as a free-of-charge day care school providing local low- income workers a safe place to leave their children. What started as a one-room school that educated 10 to 20 children, has now expanded to facilitate the education of 2000 children, from pre-school to high school.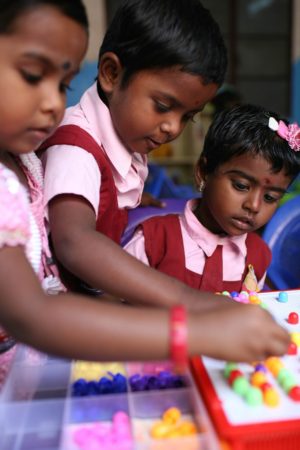 Sri Narayani Vidyalaya opened in 2002. Ranging from pre-school to grade 12, it provides State Board education to local rural children who are taught in English and Tamil.
Sri Narayani Vidyashram School was inaugurated in 2014. It instructs students all the way from kindergarten to high school in English and Hindi, under the National-Board system of education.
Vidya Nethram lends a helping hand to students from local rural communities to further their education. Every year, 800 local students from low-income families are given tertiary level education scholarships.
On completing their studies and entering the workforce, graduates are encouraged to 'pay it forward' by pledging to support a student's education. This is a beautiful tradition of gratitude and encourages other students to follow in their footsteps.