Who is Sri Shakthi Narayani Amma?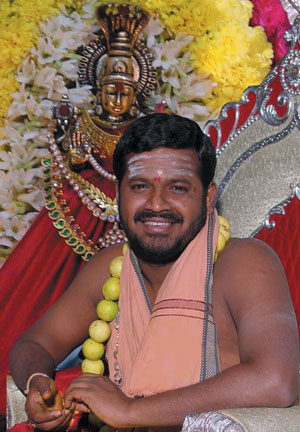 "It may be human nature to seek happiness through love, but there is a type of happiness greater than this, happiness through kindness."
Sri Sakthi Narayani Amma, affectionately known as Amma, is an esteemed spiritual leader in India.
With the aim of promoting love and wisdom throughout the world, Amma teaches that service to others is a path to inner peace and harmony.
In 1995, Amma founded the Sri Narayani Peedam, a spiritual centre in a remote village called Thirumalaikodi, located near Vellore in Southern India.
Charitable activities at Peedam include free healthcare at a the Sri Narayani Hospital and Research Centre which opened in 2004, children are educated at the Sri Narayani school, thousands are fed daily and a vast number of economic development projects are in operation.
Amma, meaning Mother, is a universal embodiment of the Divine feminine, extending compassion, love and grace.
Please enjoy this wonderful documentary about Sri Sakthi Amma, Peedam and Sri Puram created by Nathalie Latham
Sri Sakthi Amma – Sripuram and Sri Narayani Peedam. from SriSakthiNarayaniAmma on Vimeo.
For more information, click here to visit Amma's official website