Thank you f

o

r visiting Beloved Narayani Inc.

Welcome to the Australian website of our beloved Sri Sakthi Amma also known as Sri Narayani Amma, the Shakti form of the Holy Trinity of Goddess Durga, Lakshmi and Saraswathi.

OM NAMO NARAYANI
(I surrender to Divine)

The Beloved Narayani Association Inc. has been established to support the humanitarian projects inspired by Sri Sakthi Narayani Amma.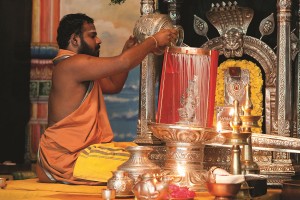 "Our vision is to share divine love and wisdom inspired by Sri Shakti Narayani Amma through devotion and service."
Examples of areas in which people are helped by Amma's programs are as follows:
•    Feeding the hungry
•    Free or below cost medical care for children and adults
•    Educational opportunities from nursery school to higher education
•    Orphanages
•    Outreach medical camps for neighboring and impoverished villages
•    Assistive devices such as hearing aids, glasses, and prostheses
•    Empowerment programs providing sewing machines for women who are the sole support of their children and cows for needy families
•    Spiritual enrichment
•    Environmental programs
•    Emergency relief for various crises', and so much more.
The Beloved Narayani Inc. goals are:
to create the opportunity for people to connect with their essential nature (inner wisdom, divine, true self) through pujas (prayers), service and special events.
to build a unified and caring community which is a living expression of love and wisdom.
to be a bridge between Australia and Sri Narayani Peedam/Sripuram in India
to create a permanent Beloved Narayani Centre in Australia.
to raise awareness about Amma and to support Amma's charitable projects in India
Please explore our website for further details or click here to see more about us.