The only charitable acute care hospital in the region offering state of the art medical care, including surgery, that is provided to anyone without regard to his or her religion or ability to pay. In addition, the hospital operates extensive non-profit community health and humanitarian programs in 58 rural villages in Southern India.
A 200 bed charitable acute care medical center has treated over 13,000 in-patients, has had 250,000 outpatient visits, and the clinics have begun administering a complete series of immunizations to over 6000 children since opening in June 2004.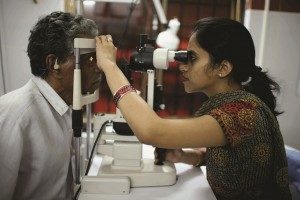 The hospital has 45 full-time physicians including specialists in Cardiology, Ophthalmology, Surgery, Nephrology, Neurology, Diabetology, Orthopedic surgery, Obstetrics and Gynecology, ENT, Radiology and Gastroenterology.
There is also a CCU, an ICU, a 24 hour Blood Bank, a 24 hour Pharmacy, a 24 hour Ambulance service, a CT Scanner and a Medical-Pathology Laboratory.
Geographically relevant research in communicable and non-communicable diseases is ongoing.
A pathology laboratory offers on-site evaluation for early detection of cancer.
The accessibility of such medical support has been life-changing for thousands of families.
Amma's vision of affordable healthcare for people in need has become a reality, which strengthens with each passing day.